Happy Sabbath church here is the latest announcements for today.
Announcements – Sabbath 20th Mar 2021 – Download Word Document
Appreciation:
Following the recent funeral of Sis Sarah Gage who passed away on Wed 13th Jan, we would like to read the following letter of appreciation received from the Gage family. It reads:
"Dear Holloway Church,
It is with profound appreciation that we say thank you to all who have supported and prayed for our mum over the years here at Holloway. Now that she is resting awaiting the resurrection, we extend our thanks for the love demonstrated to the family. Let us be faithful and prepare for that grand reunion.

God bless and keep you all."
Let us remember the Gage family and all families experiencing illness or bereavement at this time. It is our prayer that the Lord will grant healing and peace amongst all family members in Jesus name.
SEC Prayer Line
The South England Conference run an hour of prayer each and every morning from 6 a.m. You are all invited to join. To do so, dial 0330 088 1937, key in the telephone access code: 619764#. You can also join the online meeting by visiting join.freeconferencecall.com/church and follow the on-screen instructions.
SEC Children's Ministries
If you are a parent or carer, one of the main goals of discipline is helping children to grow more like Jesus. In order to do that well, we need to model Jesus's love and grace in the way that we relate to our children. On 20th March from 4:30pm to 6pm, TED Family Ministries Director Karen Holford will deliver a presentation, elaborating on how responding compassionately to your child's physical, emotional and relational needs can help them to behave better. You will also learn how to set boundaries as well as other useful tips.

To register your attendance, visit: lovingdiscipline.eventbrite.co.uk.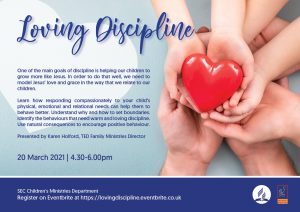 On 27th March from 4:30pm to 6pm, the SEC Children's Ministries team will deliver a programme geared towards helping children balance their emotions. Learn more about the meaning and purpose of emotions, and why it is important for our children to maintain balance during these challenging times. This programme is for all parents and carers and will also be presented by Karen Holford. That's 27th March 2021 from 4:40pm.

To register your attendance visit: balanceemotions.eventbrite.co.uk.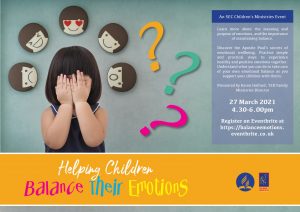 Women's Ministries Hardship Fund
To all ladies, if you are experiencing hardship in any way as a result of this pandemic, you may be able to get help! Feel free to apply for the hardship fund by emailing womens@secadventist.org.uk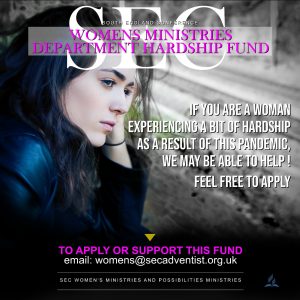 COVID-19 Vaccines – your questions answered
On Sunday 28th March from 2pm, BUC President Pastor Ian Sweeney and Health Ministries Director Sharon Platt-McDonald will be answering any burning questions you might have, relating to the COVID-19 vaccines. They will be joined by leading colleagues in the field of health including: Public Health Consultant Professor Edward Kunonga, North England Conference Director for Health Dr Beatrice Kastrati, Resident GP for GN Radio UK Dr Adwoa Danso, and GP and Health & Wellbeing Champion Dr Abdul Zubairu.
This is a program not to be missed! To tune in via zoom, tap into your zoom app, keying in meeting ID: 852 9895 1391, passcode: 071 124. Alternatively you can follow the programme live on Youtube, search: BUC News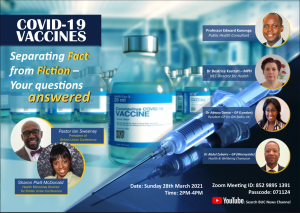 Volunteers Required
Our Haven Café and COVID 19 Response Team provide cooked meals and other services to our elderly and vulnerable members on Wednesdays between 11am and 2pm. To continue the brilliant work, the team are in need of volunteers to assist with the weekly projects, as well as qualified drivers with their own vehicles who can assist with delivery of items and other activities. If you are willing and able to assist please contact Sis Althea Bailey-Perkins on 07832 521577 with your availability.
And finally…
Email communication
If you are a Holloway member and would like to be kept informed of programmes taking place and other SDA related information via email, please send your name and email address to communications@myholloway.org
 This brings us to the end of Holloway's announcements; visit our website www.myholloway.org for a recap of all announcements. Remember to visit our YouTube channel to view all our weekly services and other mid-week activities. Search Holloway SDA Church and remember to 'like' the videos, 'share' the videos and click the 'subscribe' button to be notified when new live or pre-recorded videos are uploaded.
Stay blessed and have a lovely Sabbath.