Happy Sabbath church, here are the latest announcements for today. 
Announcements – Sabbath 3rd April 2021 – Download the Word version
There are a number of exciting upcoming programmes taking place around the South England Conference this weekend:
Teens Ministries Virtual Teens Retreat
The Teens Ministries Virtual Retreat commenced yesterday, continues today and ends tomorrow. The theme is: Guard Your Heart. You can follow the programme this afternoon from 3pm to 4.30pm and tomorrow from 11am to 12 noon. All teens are invited to join this special programme which will feature guest speaker, Dr Chidi Ngwaba. You can watch the programme on the SEC Teens Ministries Facebook page or the SEC YouTube channel.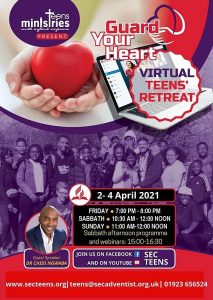 Pathfinder & Adventurer Day of Fellowship
The Pathfinder & Adventurer Day of Fellowship commenced this morning from 10am and will continue through to 4pm & 7.30pm this evening. This is a special day featuring existing and non-functioning Club Staff and Leaders alike: Put your feet up and engage in the interactive panel discussions, listen to the sermon, and join the interactive games night. The programme it interactively streaming live on the SECPathfinders. YouTube channel.
SEC Children's Min – Journey to the Cross
This afternoon from 4pm, the SEC Children's Ministries Department will deliver an Easter experience specially for the all the family. The program entitled: Journey to the Cross will feature children showcasing their talents in singing/playing Easter songs, reciting poems and monologues, all of which will be linked to the events told from the Gospel of Mark, the start of Jesus' journey into Jerusalem, right through to His crucifixion and resurrection.
You can also follow the morning programme from 11:30am on the SEC Media website, SEC Media YouTube channel and on www.brixkidz.org.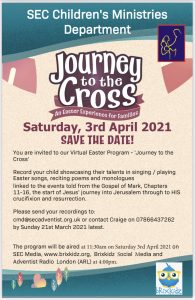 Women's Ministries Hardship Fund
To all SDA ladies, if you are experiencing hardship in any way as a result of this pandemic, you may be able to get help! Feel free to apply for the hardship fund by emailing womens@secadventist.org.uk
Volunteers Required
Our Haven Café and COVID 19 Response Team provide cooked meals and other services to our elderly and vulnerable members on Wednesdays between 11am and 2pm. To continue the brilliant work, the team are in need of volunteers to assist with the weekly projects, as well as qualified drivers with their own vehicles who can assist with delivery of items and other activities. If you are willing and able to assist please contact Sis Althea Bailey-Perkins on 07832 521577 with your availability.
This brings us to the end of Holloway's announcements; visit our website www.myholloway.org for a recap of all announcements. Remember to visit our YouTube channel to view all our weekly services and other mid-week activities. Search Holloway SDA Church and remember to 'like' the videos, 'share' the videos