Happy Sabbath church, here are the latest announcements for today.
Announcements – Sabbath 10 April 2021 – Download the Word version

Prayer Request
Let us keep our Sabbath School leader Sis Marcia Fenton in our prayer, Sis Marcia will be undergoing surgery on Wednesday 21st April and it is our prayer that the surgery is a success and that she will make a full recovery. To all Holloway members and non-members suffering illness or bereavement at this time, may our Lord will grant you healing and supernatural peace at this time in Jesus name.

ADRA 2021 Appeal
This month marks the start of the 2021 ADRA Appeal. ADRA are the global humanitarian arm of the Seventh-day Adventist Church, partnering with local communities, organizations, and governments to deliver culturally relevant programs and build local capability for sustainable change.

ADRA-UK's mission is to work with those most in need – whether they are suffering through poverty or have been affected by a disaster. Our donations enable ADRA to act right away and make a positive change. They solely depend on public donations and income earned on projects. Our contributions will help them to continue to do the work helping people that need it most.
To find out how easy it is to donate, visit www.adra.org.uk/donate

PARL Religious Liberties
This Sunday 11th April 2021, Pastor Brighton Kavaloh will lead a presentation looking at current issues surrounding mandatory vaccination and covid passports. The zoom presentation will be starting at 2pm and finishing at 4pm in the afternoon. To view the presentation, tap into your Zoom app, entering Meeting ID: 617 786 3422 and keying in passcode: JJG7JG. Be sure to tune in as there will be opportunities to ask any questions relating to vaccinations and covid passports.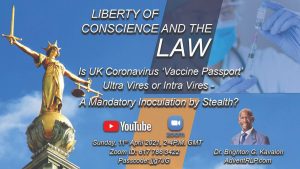 Volunteers Required
Our Haven Café and COVID 19 Response Team provide cooked meals and other services to our elderly and vulnerable members on Wednesdays between 11am and 2pm. To continue the brilliant work, the team are in need of volunteers to assist with the weekly projects, as well as qualified drivers with their own vehicles who can assist with delivery of items and other activities. If you are willing and able to assist please contact Sis Althea Bailey-Perkins on 07832 521577 with your availability.
This brings me to the end of Holloway's announcements; visit our website www.myholloway.org for a recap of all announcements. Remember to visit our YouTube channel to view all our weekly services and other mid-week activities. Search Holloway SDA Church and remember to 'like' the videos, 'share' the videos and click the 'subscribe' button to be notified when new live or pre-recorded videos are uploaded.
 Stay blessed and have a lovely Sabbath.