Happy Sabbath church, here are the latest announcements.
Announcements – Sabbath 24 April 2021 – Download the word Doc
Prayer Request
We have received news that our Sabbath School leader Sis Marcia Fenton had a successful surgery on Wednesday 21st April, we thank the Lord for His protection over her life. It is our prayer that she makes a swift and full recovery in Jesus name.
To all Holloway members and non-members suffering illness or bereavement at this time, may our Lord will grant you healing and supernatural peace at this time in Jesus name.
 St Vincent Emergency Response
Last Sabbath, it was announced that ADRA would be on hand to render assistance to those who have been affected by the devastating volcanic eruption which recently took place in St Vincent. ADRA are now working with local authorities in the Caribbean to coordinate relief efforts. Based on rapid needs assessments from coordinating bodies such as NEMO (National Emergency Management Organisation) and local reports, the needs are widespread. They include food, clothing, hygiene kits, cleaning kits, power supply (generators), home/building repair and rehabilitation.

Your support is greatly needed at this time, so for more information on the specific supplies needed, please contact our Community Services Leader Sis Karen Hibbert on 07496 879499. The deadline for submissions of supplies is Thursday 29th April. If you would like to make monitory donations of any amount, please use the following HSBC bank details: Account number: 41065289, sort code: 40-07-27. Remember to enter the word 'St Vincent' as your reference.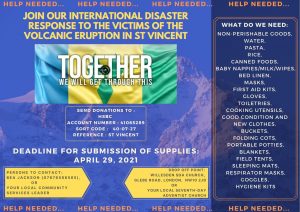 Cornerstone Counselling service
This is a reminder that the Cornerstone Counselling Service team would like to hear from you if you are a Mental Health First Aider. Please contact Thembie on 0207 723 8050 or email connect@ccscounselling.org.uk for more information.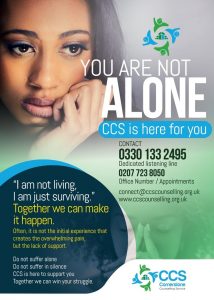 This brings me to the end of Holloway's announcements.

Remember to visit our Holloway Youtube Channel to view all our weekly services and other mid-week activities. Remember to 'like' the videos, 'share' the videos and click the 'subscribe' button to be notified when new live or pre-recorded videos are uploaded.