Happy Sabbath church, here are the latest announcements.
Announcements – Sabbath 01 May 2021 – Download the word Doc
Bereavement
It is with great sadness that we announce the passing of Sis Ambrozine Laudat. Sis Laudat was a longstanding member of Holloway and sadly passed away on Wednesday 28th April. Let us keep the Laudat family in prayer during this understandably difficult time.
To all Holloway members and non-members suffering illness or bereavement at this time, may our Lord will grant you healing and supernatural peace at this time in Jesus name.
St Vincent Emergency Response
To anyone wishing to contribute and support the emergency responce programme for St Vincent, we are pleased to announce that the deadline has been extended!
The deadline for submissions of supplies to Holloway Church is Sunday 9th of May, so for more information on the specific supplies needed, and to confirm availability and drop-off, please contact our Community Services Leader Sis Karen Hibbert on 07496 879499.
If you would like to make monitory donations of any amount, the deadline to do so is Sunday 16th May. Please make your donations to the following Holloway bank account: Account number: 00480347, sort code: 20-46-57. Please remember to enter the word 'Vincent21' as your reference.
'No Jab, No Job' for Staff in Care Homes?
The government recently launched a consultation looking at plans to require care home providers, caring for older adults, to employ only those workers who have received their COVID-19 vaccination, in order to further protect residents. Tomorrow, 2nd May 2021, Dr Brighton Kavaloh and Dr Chris Levy are facilitating a special Zoom meeting from 4pm-6pm, which will seek to put the nature of these plans into perspective. To tune in, tap into your zoom app, keying in ID: 617 786 3422, Passcode: JJG7JG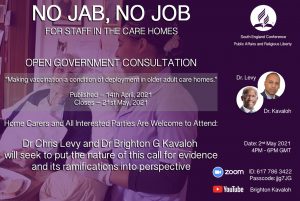 Religious Liberty & Social Trends
On 9th May from 4pm to 6pm, Pastor Kavaloh will also be delivering a zoom presentation entitled: Religious Liberty and Societal Trends, Conversion Therapy and the Legislative Ban, a Challenge and Opportunity. That's 9th of May from 4pm to 6pm. To tune in, tap into your zoom app, entering ID: 617 786 3422, keying in passcode: JJG7JG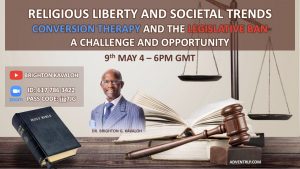 LifeSource Bookshop
The LifeSource bookshop, an established retailer of Christian books, gifts, music, resources, games and health foods based in Watford, will be reopening its doors full time from Tuesday 4th May 2021. Their opening times are Monday to Thursday between 12:30pm and 5pm, and Fridays from 10am to 2pm. For more information, call 01923 893461. Visit: www.lifesourcebookshop.co.uk or email sales@lifesourcebookshop.co.uk to make any enquiries.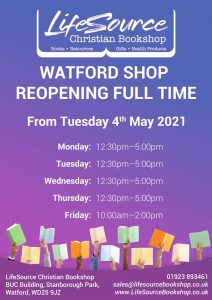 The Advent Centre Bookshop
The Advent Centre bookshop based in Marylebone West London, will also be reopening, from Sunday 9th May. The shop will be open every Sunday from 11am to 3pm but closed on all other days. For more information, call 0207 723 8146, or email: sales@stanboroughpress.org.uk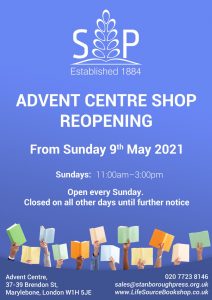 This brings me to the end of Holloway's announcements.

Remember to visit our Holloway Youtube Channel to view all our weekly services and other mid-week activities. Remember to 'like' the videos, 'share' the videos and click the 'subscribe' button to be notified when new live or pre-recorded videos are uploaded.