Happy Sabbath church, here are the latest announcements.
Announcements – Sabbath 15 May 2021 – Download the Word Doc
St Vincent Emergency Response
The ADRA and Holloway Response teams along with the team at Willesden SDA Church would first of all like to say a huge THANK YOU to everyone who has contributed to the St Vincent relief effort! The collective efforts and donations have been truly appreciated and will go a long way to supporting those in need in St Vincent and the Grenadines.
If you still wish to donate but have been unable too, there is a final opportunity to donate non perishable food items, toiletries and new clothing to Holloway Church TODAY between 3pm and 5pm. Please contact Sis Karen Hibbert ASAP on 07496 879499 to:
Confirm your attendance on Sabbath
Confirm which items you plan to give, to ensure that it will be suitable for donation.
All donated items will begin to make their way to St Vincent tomorrow at 3pm from Willesden Church. The team however are in need of strong able-bodied men and women to help package the items tomorrow, so if you are willing and able to help, please make your way to Willesden SDA Church, Glebe Road, London NW10 2JD (please repeat the address). Doors will be open from 8am and the delivery containers will be ready to leave by 3pm.
If you would like to make monitory donations of any amount, the deadline to do so is also tomorrow. Please make your donations to the following Holloway bank account: Account number: 00480347, sort code: 20-46-57. Please remember to enter the word 'Vincent21' as your reference.
Quarterlies
To any members wishing to order Children's/Senior/Teacher and Large Print quarterlies, please contact Sis. Lina Castor on 07958 193140. The deadline for make your order is Sunday 6th of June.
Classes for the Community
We would like to begin holding classes for the community, one Sunday per month to demonstrate a number of useful skills, as a means of building relationships and sharing the gospel of healthy living. These skills include: Nutritious Vegan Cooking, Knitting, Sewing, Garment making or mending, Crochet, Gardening, Natural health and Country living skills!

If you have any of the skills listed above or similar and would like to share these skills to support and teach others, please contact Sister Cresha Walkinshaw on 07939 347923,  Sister Hermine Davis on 07403 368438, Sister Anita Anderson on 07547 639862 or Sister Jasmin Wellington on 07943 417145.
If you would also like to discuss supporting this ministry in any other way, such as nutritious food donations, purchase of agreed literature, fabric, seed, plant donations etc, please do get in touch also. Thank you
Camp Meeting
Camp Meeting 2021 will once again be taking place virtually, from 31st May to 5th June 2021. The theme is: Making Disciples, Building Communities and it is our hope that not only will it bring the entire conference together for worship, inspiration and learning, but that it will also be a blessing to members of all age groups within the SEC and beyond.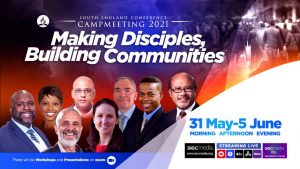 There will also a first Conference wide Communion Service taking place on Friday 4th June in conjunction with Camp Meeting. More details will be made available in due course.
This brings an end to the Holloway's announcements for this week.
Remember to visit our Holloway Youtube Channel to view all our weekly services and other mid-week activities. Remember to 'like' the videos, 'share' the videos and click the 'subscribe' button to be notified when new live or pre-recorded videos are uploaded.
Have a good Sabbath!