Happy Sabbath church, here are the latest announcements.
Announcements – Sabbath 22 May 2021 – Download a Word version

St Vincent Emergency Response
We would like to once again say a big thank you to all who made donations to the St Vincent Relief last Sabbath. We received a significant amount of supplies that were very well received. May you richly be blessed just as you have given, in Jesus name.
Quarterlies
To any members wishing to order Children's/Senior/Teacher and Large Print quarterlies, please contact Sis. Lina Castor on 07958 193140. The deadline for make your order is Sunday 6th of June.
COVID 19 vaccine and your employment rights at work
This Sunday, from 4pm to 6pm, our SEC Public Affairs & Religious Liberty leader, Dr Brighton Kavaloh, will be joined by HR Consultant, Ayomi Soremekun, to examine issues and questions such as:
Where does UK Covid-19 legislation stand at the moment on vaccination?
To what extent can your employer require mandatory vaccination?
What are your employment rights as a consequence of this?
To tune in, tap into your zoom app, enter meeting ID: 617 786 3422, key in passcode: JJG 7JG. You can also watch the programme buy searching Brighton Kavaloh on Youtube. We encourage those with concerns in this area to attend, as these questions and more will be reviewed in light of their implications on liberty of conscience and the law.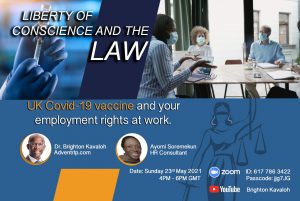 Classes for the Community
We would like to begin holding classes for the community, one Sunday per month to demonstrate a number of useful skills, as a means of building relationships and sharing the gospel of healthy living. These skills include: Nutritious Vegan Cooking, Knitting, Sewing, Garment making or mending, Crochet, Gardening, Natural health and Country living skills!

If you have any of the skills listed above or similar and would like to share these skills to support and teach others, please contact Sister Cresha Walkinshaw on 07939 347923,  Sister Hermine Davis on 07403 368438, Sister Anita Anderson on 07547 639862 or Sister Jasmin Wellington on 07943 417145.

If you would also like to discuss supporting this ministry in any other way, such as nutritious food donations, purchase of agreed literature, fabric, seed, plant donations etc, please do get in touch also. Thank you
Camp Meeting
Camp Meeting 2021 will once again be taking place virtually, from 31st May to 5th June 2021. The theme is: Making Disciples, Building Communities and it is our hope that not only will it bring the entire conference together for worship, inspiration and learning, but that it will also be a blessing to members of all age groups within the SEC and beyond.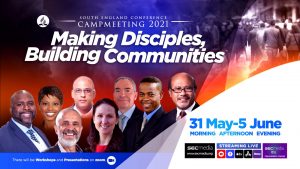 There will also be a first Conference wide Communion Service taking place on Friday 4th June in conjunction with Camp Meeting. More details will be made available in due course.
This brings an end to the Holloway's announcements for this week.
Remember to visit our Holloway Youtube Channel to view all our weekly services and other mid-week activities. Remember to 'like' the videos, 'share' the videos and click the 'subscribe' button to be notified when new live or pre-recorded videos are uploaded.
Have a good Sabbath!