Happy Sabbath church, here are the latest announcements.
Announcements – 5th June 2021 – Download a Word version

Funeral – Sis Ambrozine Laudat
This is a reminder that the funeral of the late SIs Ambrozine Laudat will take place at Holloway Church on Thursday 10th June 2021 at 11.30am. Sis Laudat sadly passed away on 28th April this year. The Interment will take place at New Southgate Cemetary, Brunswick Park Road N11 1JJ at 2.30pm. 

Although lockdown is indeed lifting, restrictions still do apply in terms of how many guests can attend in person. So, if you are unable to attend for any reason, you can tune in to the live broadcast via either our Holloway Youtube channel, or via the Holloway website www.myholloway.org.
Let us support and keep the family in prayer at this time.
Camp meeting
This week, we have been blessed and spiritually fed during our Virtual Camp Meeting, with so many of our members across the conference coming together at various parts of the day for workshops, and early morning and evening commitment services. Camp Meeting continues today and will be ending tomorrow, so be sure to tune in via the SEC website, or youtube channel.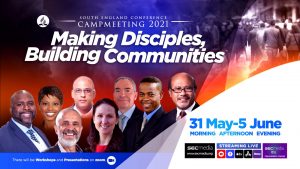 Quarterlies
This is a final reminder to any members wishing to order Children's/Senior/Teacher and Large Print quarterlies, please contact Sis. Lina Castor on 07958 193140 to place your orders. The deadline to do so is tomorrow 6th of June.
Bible Study cancelled
Please note, there will be no Bible study this afternoon due to the camp meeting programme. Normal study will resume next week.
And finally…
Qualified home based childcare providers needed
Are you a provider of home based childcare services? Are you a qualified and experienced? If so, please contact Sis Annicia Gayle-Geddes as soon as possible on 07762 788485.
This brings an end to the Holloway's announcements for this week.
Remember to visit our Holloway Youtube Channel to view all our weekly services and other mid-week activities. Remember to 'like' the videos, 'share' the videos and click the 'subscribe' button to be notified when new live or pre-recorded videos are uploaded.
Have a good Sabbath!