Holloway Church Announcements – Sabbath 30th April 2022
Announcements – 30 April 2022 – Download a Word version
Family Funday – Part 2
The Family Funday which took place at Tufnel Park on Monday 18th April was a resounding success, Praise God! Local residents who attended commented on what a fun and enjoyable day they had. So much so that we have been invited to come back for another funday!
So brethren on Bank Holiday Monday 2nd May from 10am, another Funday will be taking place, over at Tufnell Park playing fields. Bring your board games, your skipping ropes, badminton bats and any other fun games you can think of, for what will be another lovely day full of fun and relaxation. Toilets and children's facilities will again be available on the day. So, remember to invite your friends too!
Core of Adventism, 7th – 14th May
From next Sabbath 7th -14th May the British Union Conference will be hosting its annual Core of Adventism evangelistic campaign here at Holloway. The theme for the programme is: We Still Believe, and will explore the true beliefs of the Seventh-day Adventist faith.
The programme starts from 11am to 4pm next Sabbath, and from 7pm to 9pm during the week. The programme, led by Evangelism Director Pastor Kirk Thomas, will take place live and in person, here at Holloway, but will also be streamed virtually for those unable to attend. We will have a number of speakers throughout the week, presenting key relevant topics. There will also be a children's programme each evening from 7pm to 7.30pm.
To watch live online you can tune in to the BUC Media and SEC Media YouTube and Facebook pages. You can also tap into your Zoom app, keying in Meeting ID 898 9298 1284, and entering password BELIEVE.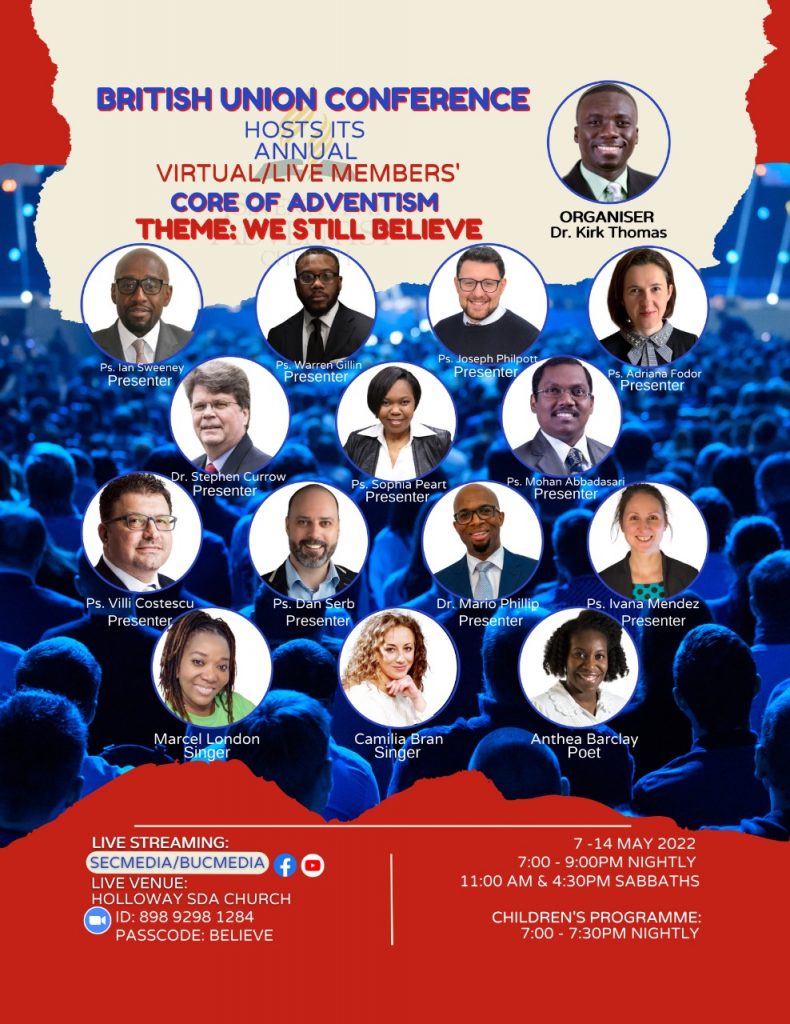 Virtual Food Safety and Hygiene Course
There will be an online Food Safety and Hygiene Course for anyone who handles, prepares, or serves food to the community, on Tuesday 10th May 2022. The timing of the course will be confirmed in due course, however if you are interested, please give your names to either myself, Brother Hubert Greenaway, Sister Cerita Hopkins, Brother Lance Hardy or Brother Kwame Gyimah. Names must be submitted no later than Friday 6th May 2022.
Prayer and Fasting Session
The Prayer Ministries team will conduct the next monthly prayer and fasting session on sabbath 7th May 2022. We will meet in the sanctuary from 1.20pm to 3.00pm. You are all invited. Please come with your prayer requests and let us pray together,  interceding for each other and for the many issues we face in the world today.
 Headteacher required – Stanborough Secondary School
The British Union Conference are looking to appoint a new headteacher for Stanborough Secondary School. An online meeting is scheduled to take place on Monday 9th May, to share details of the role before the closing date of 13th May, and to also talk about the general needs for Adventist Education and the need for candidates to consider supporting our schools.
The BUC has no plans to close any of its schools, so if you are a teacher or leader in the education sector, are a member of the Adventist Church and are interested in the vacant headteacher position, please attend the online meeting on Monday 9th May from 7pm to 8pm. To log in, tap into your zoom app, entering Meeting ID: 852 5531 3322, passcode: ATA2022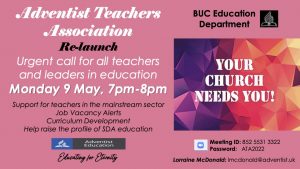 Hays Wood Retreat
For those of you who have registered an interest to attend the weekend retreat at Hay's Wood from 24th to 26th June, you will have already received or will receive a message on allocations and payments. Please make every effort to follow the instructions provided. Should you have any questions, please contact either Sis Lorraine Johnson on 07588 684 840, Sis Deborah Wellington on 07958 002 823 or Sis Karen Onek on 07956 954 803.
For those still interested to attend, please make contact too but please be aware that spaces are now limited.
Sabbath School Quarterlies
Please order your Senior, Teacher and Children quarterlies now from Sis Castor on 07958 193140, that's 07958 193140.  The deadline for your order is Sabbath 28th May.
Please note that NO quarterlies will be ordered after the deadline.

Remember to visit our Holloway Youtube Channel to view all our weekly services and other mid-week activities. Remember to 'like' the videos, 'share' the videos and click the 'subscribe' button to be notified when new live or pre-recorded videos are uploaded.
Have a good Sabbath!