Holloway Church Announcements – Sabbath 27th August 2022
Funeral – Bro Solomon Richards
This is a reminder that the funeral of the late Bro Solomon Richards, who sadly passed away on 28th of July, will be taking place at 11am on Wednesday 7th September at Tottenham West Green Road Church, 255 West Green Road, London N15 5EG. Brother Richards was a member of Lighthouse SDA Church and was a former member of the Male Voice Choir. Let us make every effort to attend and please keep the entire family in prayer at this time.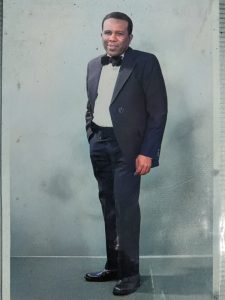 God First – Stewardship Residential
Calling all members of the stewardship department! From 2nd to 4th September the NEC and SEC are hosting a brilliant Stewardship Residential over at Hays Wood Retreat in Kings Lynn Norfolk. The 3-day programme will be full of activities to equip, resource and empower your calling and mission as stewardship members! Please note that a special discount of £50 has just been applied to the accommodation costs, so tickets are beginning to sell fast. For more information or to book, call Mavis Bramble at the SEC office on 01923 232728, or email: stewardship@secadventist.org.uk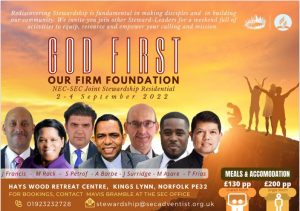 Stanborough Press Open Day – Sun 4th Sept
On Sunday 4th September the eagerly awaited Stanborough Press Open Day is back, with an international speaker, local Adventist authors, live music, a selection of vendors and children's activities on the day. You are invited to come and experience a joyful reunion with friends and family from across the BUC at the local Adventist publishing house!

They have lots to share with us – Adventist authors from across the UK will be telling of how the Spirit moved them to put pen to paper during lockdown; there will be plenty to keep the kids happy as they develop a love of reading Christian books; and you'll find special offers and bargains aplenty. The special offers will also be available online at www.LifeSourceBookshop.co.uk, starting tomorrow 28th Aug.

You can tune in to the event in person by visiting Stanborough Press Ltd., Alma Park, Grantham NG31 9SL, or you can tune in online at www.lifesourcebookshop.co.uk, or via the SEC Youtube page.


Harvest Service -10th September
The Lord made the world and everything in it, and so on Sabbath 10th of September we will be giving God thanks with our bountiful Harvest Service. So, get your allotments and harvest crops ready for what will be a brilliant thanksgiving service.


Schools Bill – Impact on Home-schooling Pt 1 and Pt 2
Join a two-part conversation on What the Schools Bill means for home-schooling parents. The programme will be led by Pastor Brighton Kavaloh. Part 1 starts tomorrow from 7pm to 8.30pm, and continues on Sunday 11th September at the same time. To tune in, tap into your zoom app, keying in meeting ID: 860 5172 5835, passcode: 515728. You can also send your questions in advance to Pr. Kavaloh: admin@sdahomeeducation.org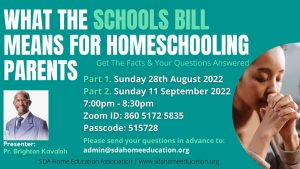 Diabetes Awareness
On Sabbath 17th September at 3pm, a Free Diabetes Awareness Raising Event will take place here at Holloway. The speaker will be Tony Kelly, a diabetes ambassador and advocate who has lived with diabetes for 18 years and has never taken medication. Come along to obtain the facts in order to prevent, manage and control diabetes.
A Q&A session will follow the presentation along with a chance to get your blood and sugar levels tested on the day. Don't miss it! Sabbath 10th September at 3pm. Please see poster on the noticeboard for more information.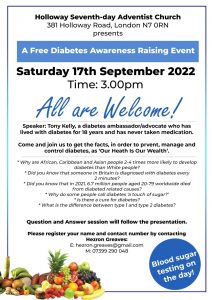 Ekyombo Fundraising
Many of you may be aware that over the last few years Sis Safina Kavuma has been running a charity, Ekyombo, that diligently seeks to address poverty and lack of education in the village of Namabaale in central Uganda. By the grace of our God, and with a small team of volunteers and family members, Sis Safina managed to start a school in the village, Namabaale Progressive School in 2017. Students ages range from 3-13 years old; and the numbers have continued to grow steadily since its opening in 2017.
With more students attending the school daily, and with just seven teachers available, Ekyombo needs your support to employ more teachers and complete the building of the school. (class room).
Here's how you can help: With the Buy-A-Brick fundraising initiative, you can buy a brick for £1. £10 buys 10 bricks and gives you, the donor, the opportunity to have your name inscribed on the school classroom wall for all to see. You can of course buy as many bricks as you wish.
Another way that you can help is by sponsoring a Namabaale child by giving a monthly contribution of 10, 15, 20 or £25. Please see the poster on the noticeboard for information on how you can support this worthy cause.
And Finally
Sabbath School Quarterlies
If you wish to place an order for your Sabbath School Quarterly, please contact Sis Lina Castor on 07958 193140.
Remember to visit our Holloway Youtube Channel to view all our weekly services and other mid-week activities. Remember to 'like' the videos, 'share' the videos and click the 'subscribe' button to be notified when new live or pre-recorded videos are uploaded.
Have a good Sabbath!