Holloway Church Announcements – Sabbath 5th Nov 2022
Games Night – 5th Nov
This is a reminder that you are invited to a Holloway Church Games Evening on this evening, from 6pm to 9pm at the Williamson Hall, bought to you by the Youth, Teens and Women's Ministry departments.
This event is for the young, the middle aged, the not so young and the ones who are young at heart…basically for everyone. It's an evening of games, laughter, fun and plenty of interactions. To make the evening even more enjoyable, we are asking for food donations (finger foods) which will be on sale. A portion of the funds raised will go towards the Holloway Church Building Fund. You will need comfortable clothing, suitable footwear, your thinking caps and pocket tissues!
See you there by God's grace…it's going to be a great evening so don't miss it. That's this evening from 6pm to 9pm.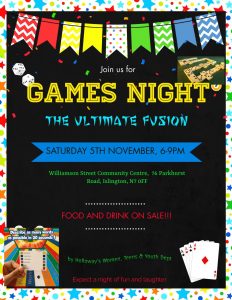 Week of Prayer: 5th–12th Nov
Today marks the start of our Week of Prayer, which will be taking place each evening until 12 November 2022. The theme is Growing Disciples, and the speakers will include Pastors Moore and Ahmed, and a few of our elders. From tomorrow, the Week of Prayer will take place at 7.15pm on Zoom, as well as Monday, Tuesday, Thursday and Friday. Sabbaths and Wednesday sessions will be conducted at church.
To tune in from this evening at 7.15pm, tap into your Zoom app, keying in meeting ID 834 8335 7543 and passcode 'prayer'.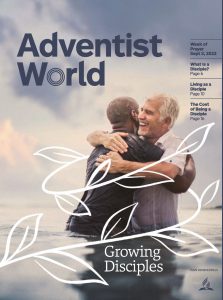 Sewing Classes for Beginners: from 7th Nov
Are you interested in learning to sew? A 6-week course sewing classes for beginners will be running every Monday from 7th November at 5-7pm at Hyland House School, Holcombe Road, Tottenham, N17 9AB. There are very few spaces left so if anyone is interested, please contact Margaret on 07861 713173. Please pass the message on to anyone you think that would be interested.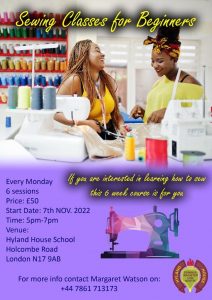 Namabaale Fundraising Banquet
This is a reminder of a fantastic fundraising banquet taking place on Sunday 13th of November 2022. The banquet, which will be in aid of the Namabaale Progressive School over in Uganda, will take place at Selby Centre, Selby Road London N17 8JL and promises to be a special occasion full of entertainment, good food and lots of fun! This is a ticketed banquet, so to purchase your ticket please contact: Sister Safina Kavuma on 07503 750 127, that's 07503 750 127.
And Finally
Christmas Concert
The Holloway Social Committee presents In Christ Alone, a Christmas concert not to be missed! This concert will take place on the 17th of December at 4.30pm here at Holloway. With a host of talented choirs, groups and soloists performing on the night, this promises to be a praise-filled evening. There will also be refreshments on sale on the night. Please save the date.
Remember to visit our Holloway Youtube Channel to view all our weekly services and other mid-week activities. Remember to 'like' the videos, 'share' the videos and click the 'subscribe' button to be notified when new live or pre-recorded videos are uploaded.
Have a good Sabbath!