Senior Pastor: Kwesi Moore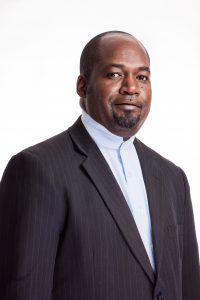 Pastor Kwesi Moore was installed as the Senior Pastor of the Church on the 2nd November 2019.
Pastor Kwesi Moore and his wife Michelle are Guyanese by birth and naturalize British citizens. Over the past 13 years the Moore family have served in the Lewisham district, High Wycombe district, and the North Wembley district. He has also been given additional responsibility of become the Senior Pastor of the Stoke Newington Church from the 1st January 2021.
Pastor Moore currently serves the London Ministers Council as its chairperson and the London Area Advisory Council as its Vice-Chairperson.
Sister Moore is a teacher by profession with over 25 years' experience.  She currently serves as the coordinator of the SEC Ministerial spouse association.
The Moore's have been blessed with three sons, Samuel the eldest, Emmanuel and Kemuel the youngest.
You can meet with Pastor at his weekly Wednesday Surgery (via appointment) from 10.30am to 1.30pm. To make an appointment if you would like prayer, counselling or just to talk, email: pastor@myholloway.org or call: 07850 156105.