Happy Sabbath church, here are the latest announcements.
Announcements – 24th July 2021 – Download a Word version
Leaving Do – Pastor Warren Gillin
On Sunday 8th August from 3pm, our Social Committee are putting together an official Leaving Party for Pastor Warren Gillin, our former youth pastor who moved on from Holloway during lockdown. Yes, time has indeed passed since Pastor Warren moved on but for obvious reasons we were unable to give him a good send off.
We are inviting you all to come along and enjoy the tributes, poems and songs in honour of the phenomenal work he did whilst he was our youth pastor. The programme will take place here in the main sanctuary, with food distributed in the youth hall shortly after.
For more information please contact Bro Orel Barclay on 07956 336404.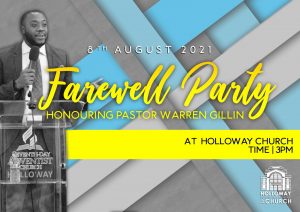 And finally…
Cornerstone Counselling Service – The Cornerstone Counselling Service is readily available to support each and everyone of us through any emotional or psychological needs we may have.
Call the dedicated listening line from 8am to midnight, seven days a week on 0330 133 2495;
For counselling appointments, call the office on 0207 723 8050, from 9.30am to 5.30pm, Monday to Thursday, and 9am to 12 noon on Fridays;
You can also email connect@ccscounselling.org.uk;
Visit the Cornerstone website to either chat online, or receive emotional support resources: visit www.ccscounselling.org.uk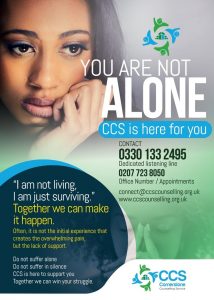 This brings an end to the Holloway's announcements for this week.
Remember to visit our Holloway Youtube Channel to view all our weekly services and other mid-week activities. Remember to 'like' the videos, 'share' the videos and click the 'subscribe' button to be notified when new live or pre-recorded videos are uploaded.
Have a good Sabbath!