Happy Sabbath church, here are the latest announcements.
Announcements – 4 Sept 2021 – Download a Word version
Happy Sabbath church, I'd like to welcome you all to Holloway's Sabbath service programme today. We hope you've all had a lovely week and trust that you will be spiritually blessed by the service programme today.
Let's Talk Series part 2
Next Friday, 10th September, the Women's Ministries Department will host the second part of its Let's Talk series on Self-Care. We are delighted to inform you that Serena Nwokoye will to take us through the practical applications of what it means to look after ourselves from a Biblical perspective. There will be opportunities to ask questions and share ideas. To tune in, tap into your Zoom app, keying in meeting ID: 843 8128 4458, entering passcode: 515483. You can also dial in on 0203 481 5240. That's next Friday 10th September at 7p.m.
No Jab No Job
From 11 November 2021, new laws will place obligations on registered persons and service providers to prevent anyone from entering a care home unless they have received a full course of Covid-19 vaccination, are medically exempt from vaccination or fall into one of six other exempt categories.

The rules apply not just to those who are employed in care homes, but also those who need to enter care homes either as part of their roles (such as CQC inspectors) or to provide services (such as cleaners, hairdressers and medical professionals).

So who is exempt? – the are exempt categories:
Those who for medical reasons cannot be vaccinated, i.e "clinically exempt";
Anyone under the age of 18;
Friends or relatives of care home residents;
Members of the emergency services;
Those providing urgent maintenance assistance where there is a risk to life or continuity of care; and
Those visiting a resident who is at the end of life.
How will this affect staff in care homes? Next Sunday 5th September, Pastor Brighton Kavaloh will be shedding more light on this from 4pm to 6pm. To tune in, tap into your zoom app keying in zoom ID: 617 786 3422, entering passcode: JJG7JG. You can also follow the programme on Pastor Kavaloh's YouTube page, searching: Brighton Kavaloh.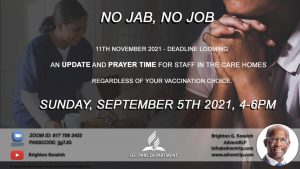 Home-schooling
On Sunday 12th September Pastor Brighton Kavaloh will also be presenting a programme surrounding the proposed legislation on home schooling, which the government is planning to implement. For all those with an interest in home-schooling, this is a programme not to be missed. To tune in on 12th September from 4pm, tap into your zoom app keying in zoom ID: 617 786 3422, entering passcode: JJG7JG. You can also follow the programme on Pastor Kavaloh's YouTube page, searching: Brighton Kavaloh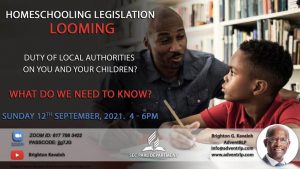 Friendship Ministry
Brethren, wouldn't it be wonderful for us to be able to connect with someone new? Wouldn't it be lovely to take some time, perhaps an hour or so a week, to reach out to fellow brethren who just want to hear a friendly voice? Or perhaps you would like to receive a call and make a new connection with someone?If you would like to be part of a new Friendship Ministry and can spare about an hour of your time a week speaking with someone who would simply like to feel that they are valued and cared for, or, if you would like to receive a call from a member of the ministry, please call or send a text message to Sister Cresha Walkinshaw on 07939 347923, that's 07939 347923.
Cornerstone Counselling Service
We would like to offer a gentle reminder that Cornerstone Counselling Service is readily available to support you with your emotional wellbeing. Cornerstone Counselling Service is sponsored by the South England Conference, they provide a confidential and profession service for children, young people, couples, individuals and families.
You can call the dedicated listening line from 8am to midnight, seven days a week on 0330 133 2495;
For counselling appointments, call the CCS office on 0207 723 8050, from 9.30am to 5.30pm, Monday to Thursday, and 9am to 12 noon on Fridays;
You can also email connect@ccscounselling.org.uk;
You can also visit the Cornerstone website to chat online and seek emotional support resources: visit www.ccscounselling.org.uk
This brings an end to the Holloway's announcements for this week.
Remember to visit our Holloway Youtube Channel to view all our weekly services and other mid-week activities. Remember to 'like' the videos, 'share' the videos and click the 'subscribe' button to be notified when new live or pre-recorded videos are uploaded.
Have a good Sabbath!