Announcements – Sabbath 10th Dec 2022


Appreciation – The Lawrence/Spellen and Isaac families
The families of the late Barbara Lawrence and the late Bro Robeltoe Isaac wish to express their sincere thanks and gratitude to the Church family for all their love, support and prayers in their time of bereavement.
Gifts for the Community
Last week, we announced that we would love to share gifts with those in the community and the church during this festive period. If you have any items with you today, or you would like to give a financial contribution, please see Sister Cresha Walkinshaw, Sister Hermine Davis or Sister Anita Anderson after service today.
As a reminder, we would like to offer items such as:
Aftershave/Perfume
Toiletries
Scarves, Hats, Blankets, Jumpers
Clean toys in excellent fully working condition and complete
Sleeping bags, Drinks flasks
Small used items in excellent condition (with the exception of personal hygiene items and toiletries) will also be gratefully accepted.
You can also bring your items here at Holloway Church on any Wednesday between 12.30pm and 2.30pm or Sabbath afternoon before 4pm. The gifts will be shared on Wednesday 21st of December.
May the Lord continue to bless us as we give.
And finally…
Christmas Concert
Please be reminded that a special Christmas concert will be taking place here this evening, entitled: In Christ Alone, a Christmas concert not to be missed! This concert will take place at 4.30pm and will include a host of talented choirs, groups and soloists performing on the night, this promises to be a praise-filled evening. There will also be refreshments on sale. We look forward to seeing you this evening!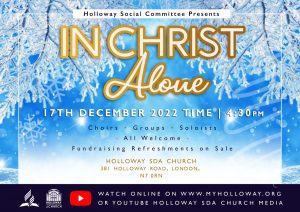 Remember to visit our Holloway Youtube Channel to view all our weekly services and other mid-week activities. Remember to 'like' the videos, 'share' the videos and click the 'subscribe' button to be notified when new live or pre-recorded videos are uploaded.
Have a good Sabbath!