Announcements – Sabbath 11th Feb 2023

ADRA Appeal
We would have all heard the news that on Monday 6 February, an initial 7.8 magnitude earthquake rocked southern Turkey close to the border with northern Syria. Nine hours later, a second 7.5 magnitude earthquake struck with severe aftershocks following. To date, more than 11,000 people have died, with the death toll rising, thousands are injured and it is estimated that 23 million people will be affected. The weather is very cold right now with snowstorms adding to the challenges.
The families affected are desperately in need right now, and so there is now an emergency team from ADRA UK who are active in Turkey. ADRA Syria is also responding in providing food and repairing access to drinking water. The team does however need your help, they are in need of financial donations as it is currently not possible to send goods directly to the areas at the moment. There is an ADRA Donate webpage where you can donate whatever you are able to.
Adra link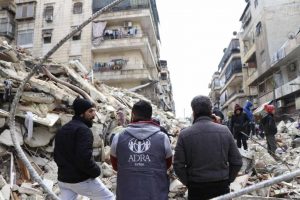 Children's Story
As we all know, the children's story slot is a brilliant time for our children to engage in meaningful interesting stories that will leave them with valuable lessons to take away. If you have a passion for children and storytelling and wish to take part in the children's story slot, now is your chance! For more information, please see Sis Sanya today, or contact her on 07468 527172. She would love to hear from you!
Holloway International Day of Prayer
On Sabbath 4th of March, we will be hosting an International Day of Prayer, led by our Women's Ministries department. The day is sure to be special and will consist of prayer, praise and encouraging testimonies. As an added spice, you are invited to come along in your international colours. Join us for lunch afterwards followed by a women only afternoon session at 5.30pm. We encourage you all to save the date, that's Sabbath 4th of March.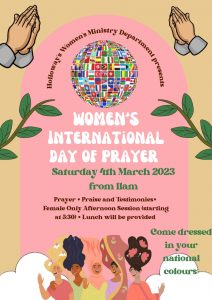 Gift Aid
If you are a UK resident and a taxpayer, we'd like to encourage you to consider joining the Gift Aid scheme. It is a scheme which enables charities like Holloway Church to reclaim tax on donations made by you as a taxpayer. Joining costs absolutely nothing and it releases additional funds from tithes & offerings which can be used for evangelism! To complete an online Gift Aid form, follow the Gift Aid link which is on the Giving page on the Holloway website. If you require more information prior to doing so, or to obtain a Gift Aid form, please email: treasury@myholloway.org or speak with Sis Tola Olurin or Bro Duane Davidson.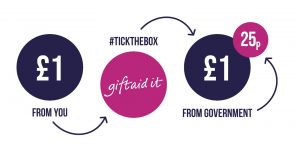 And finally…
Teens Led Service – 25th Feb 2023
This is a reminder that on the last Sabbath of this month, the 25th of February, our teens will be leading a special Sabbath programme entitled: Let's talk about Social Issues. The speaker on the day will be SEC Teens Director Pastor Juan Patrick, who will be touching on topics pertinent to our teens including, health, crime and the environment in which we live. Lunch will of course be provided followed by a number of workshops in the afternoon. Be sure to spread the word! Save the date and invite your friends for what will be a blessed day for everyone who attends.
Remember to visit our Holloway Youtube Channel to view all our weekly services and other mid-week activities. Remember to 'like' the videos, 'share' the videos and click the 'subscribe' button to be notified when new live or pre-recorded videos are uploaded.
Have a good Sabbath!