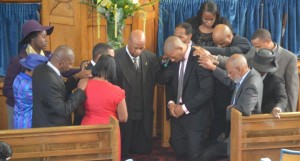 Pastor Holder and the Elders of Holloway Church invited David Adams and Pastor Herel to be ordained as elders on Sabbath 29th October 2011.
1 Timothy 3:1-7 was read by the visiting pastor from Ilford Church to remind us of the characteristics of a man of God. Pastor reminded us that being an elder, is not just an office in church but a lifestyle where outside of church we should be showing God in us.
Pastor Holder then gave some encouraging words. He said that elders should be able to pray for members in any given situation. They should be ready if they are to be called upon and to be ready to give sound advice. They should be ready to visit members and spend time with them.
Pastor Holder continued and said these wise words "Its a demonstration of wisdom, not a flash of intelligence; its not where you stand but what you stand for."
The ordination service was brought to a close with the laying of hands on both Pastor Herel and Bro David Adams. What a joy it is to see men dedicate their lives to God and for them to be willing to allow God to use them.